BOTOX– Chicago, IL
Relive Chronic Jaw Pain While Enhancing Your Appearance
The inability to open and close your mouth, the difficulty chewing, and the intense discomfort throughout your jaw and head can be challenging. Not to mention the wrinkles and fine lines that are evidence of your maturing age. If you suffer from temporomandibular joint dysfunction (TMD) and/or facial imperfections, you're not alone. But the good news is that at Washington Dental Care, we offer BOTOX in Chicago, which is designed to treat these issues. Contact us today to learn if you're a candidate and what steps you can take to get started.
What is BOTOX?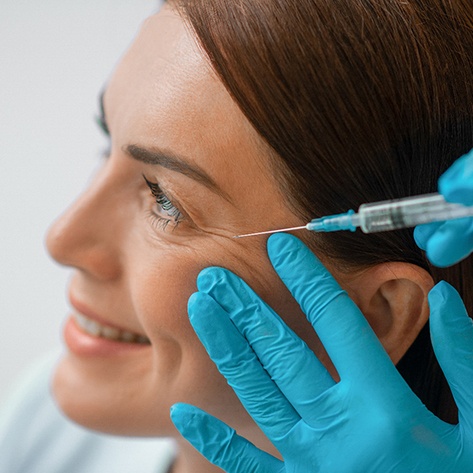 BOTOX is a uniquely designed treatment that targets age lines and offers relief from chronic jaw pain. Derived from the bacterium, botulinum toxin, it is used in a diluted form among dentists and skin care specialists to help individuals who want to turn back the clock on aging and/or embrace a better quality of life.
Injected into various areas of the facial skin, it temporarily freezes the muscles to prevent contractions that commonly cause lines to form (i.e., smiling, frowning, laughing). It can also reduce the likelihood of an overworked jaw, allowing greater comfort for those battling debilitating jaw pain.
Approved by the FDA, it can produce results in as little as a few days but can last 2-3 months. The injections take only minutes to complete and depending on how many you need, you can be finished with your session in the time it takes for a normal lunch break. This makes BOTOX one of the most effective and efficient solutions for busy professionals.
Who is a Good Candidate for BOTOX?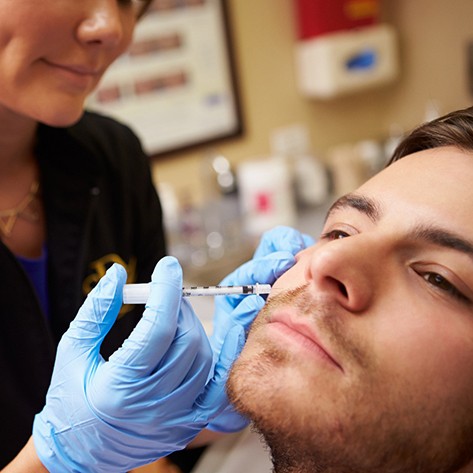 Candidates for BOTOX should be in their late-20s and considered healthy. To determine the status of your overall health, you'll be required to schedule a consultation with a cosmetic dentist in Chicago. You'll be asked questions about your current condition as well as any medications you are currently taking.
After evaluating your facial esthetics, our dentist will determine the severity of your imperfections and/or pain. If you struggle with any of the following, there is a good chance you'll qualify for treatment:
Temporomandibular joint dysfunction (TMD)
Glabellar lines (vertical lines between the eyebrows)
Crow's feet
Vertical lines around the lips
Forehead lines and wrinkles
Horizontal lines across the forehead
The Benefits of BOTOX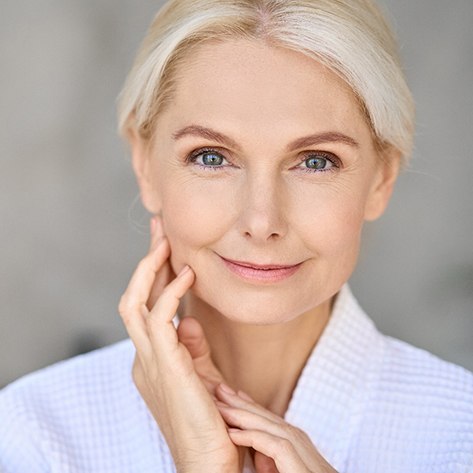 Many people assume BOTOX is not safe to use or is too expensive, but the reality is that when administered by a qualified professional, the use of this substance is safe and effective. It is also much more affordable than a complete facelift.
Additional benefits of BOTOX include:
It is minimally invasive because of the small insulin-like needle used for injections
It subtly improves your appearance, allowing for a more youthful look
The recovery time is minimal, allowing you to return to work or resume normal activity following your appointment