Implant Dentures – Chicago, IL
Replacing All of Your Teeth with Dental Implants
Losing an entire row of teeth can make eating and speaking very frustrating. You can use traditional dentures to restore your smile, but while they do have plenty of benefits, they can also slip at inopportune moments, causing you to mumble your words or have trouble chewing certain foods. Dr. Hammes can secure your dentures onto dental implants in order to ensure that your new teeth stay exactly where they need to be. Please contact us today to learn more about how implant dentures can bring back your full grin!
Why Choose Washington Dental Care for Implant Dentures?
Dental Implants Placed and Restored In-House
Free Dental Implant Consultations
Surgical Guides for More Precise Placement
What Are Implant Dentures?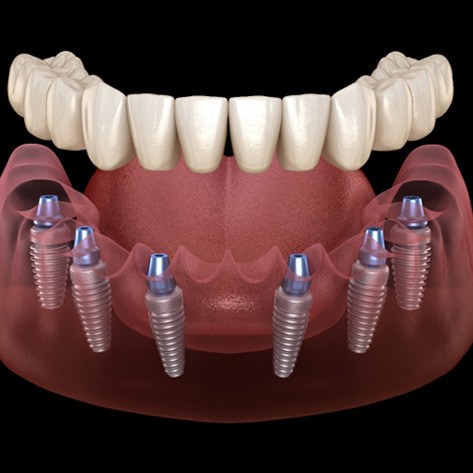 Unlike regular dentures that stay on the gums using natural suction or an adhesive, implant dentures are anchored to your jawbone thanks to dental implants. You can think of dental implants as artificial tooth roots; not only can they stop your new teeth from slipping, but they also stimulate the jawbone to stop it from deteriorating.
We may recommend either fixed or removable implant dentures depending on your specific needs.
Fixed/Permanent Implant Dentures
This type of denture is permanently attached to the implant posts. It will only be taken out by a trained implant dentist. Many people prefer fixed implant dentures because they can be brushed as if they were real teeth. About four to eight implant posts are needed for a fixed implant denture.
Removable Implant Dentures
Removable implant dentures (sometimes called overdentures) can be taken out of your mouth at any time. You can clean them the same way you would a traditional denture. Only about two to five implants are needed to support removable implant dentures, which means they're often a better choice for patients with less jawbone density.
The Implant Denture Process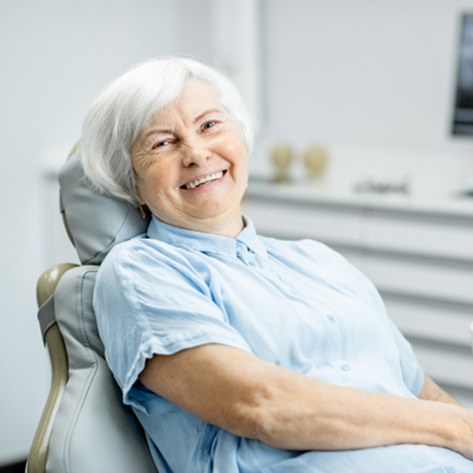 The process begins with a consultation where we confirm that you're a viable candidate for dental implant surgery and put together a plan for what the treatment will look like. We may need to prepare your mouth and jaw for implant placement with bone grafting and other procedures.
The dental implants will be surgically placed in your mouth, and we'll wait a few months for them to fuse with the jawbone. Metal connectors called abutments will be attached to the posts. Once your final denture is ready, we'll place it on your implants using the abutments to hold it in place.
Am I a Candidate for Implant Dentures?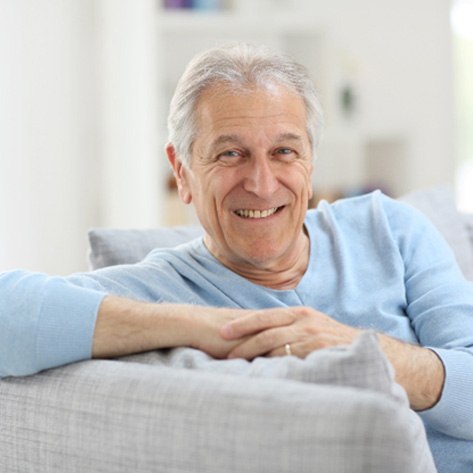 You are likely a candidate for implant dentures if:
You are an overall healthy adult who is missing a full arch of teeth.
You do not have gum disease or any other oral health problem that can get in the way of implant placement.
There is enough bone density in your jaw for dental implant surgery, or you are willing to have a bone graft performed.
You are able to dedicate yourself to maintaining excellent oral hygiene after your dental implants are placed.
Benefits of Combining Dentures & Dental Implants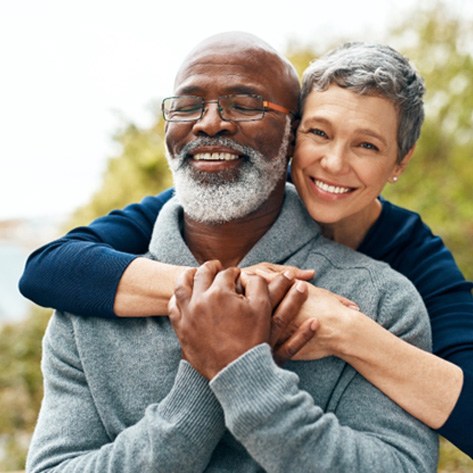 Choosing implant dentures over regular dentures allows you to enjoy the following benefits:
New teeth that look and feel identical to natural ones.
Dentures that no longer slip or shift.
Artificial tooth roots that prevent bone loss.
Implant posts that can last 30 years or more with the right care.