Dental Implants – Chicago, IL
A New Standard for Modern Tooth Replacement
While traditional methods of tooth replacement have been around for an incredibly long time, modern solutions are slowly becoming the new standard in the field of dentistry. This includes dental implants, a revolutionary treatment option for bringing your smile back in the most effective and comprehensive way possible. If you are learning about them for the first time, we encourage you to give us a call to set up a free consultation to discuss dental implants from our Chicago, IL dentist and learn if this tooth replacement option is right for you!
Why Choose Washington Dental Care for Dental Implants?
In-House Placement and Restoration
Free Dental Implant Consultations Available
Surgical Guides Utilized for Better Treatment Outcome
What are Dental Implants?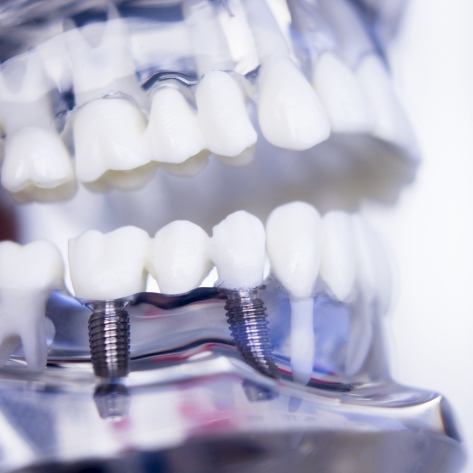 Unlike other tooth replacement methods like bridges or dentures, dental implants effectively replace the root and the crown portion of teeth. This is done through a titanium post that fuses with your jawbone and soft tissue, a personalized restoration (such as a dental crown, bridge, or denture) and an abutment that connects the two components together. Because of this fusion process, also known as osseointegration, chewing feels natural and your tooth replacement remains secure for decades.
The 4-Step Dental Implant Process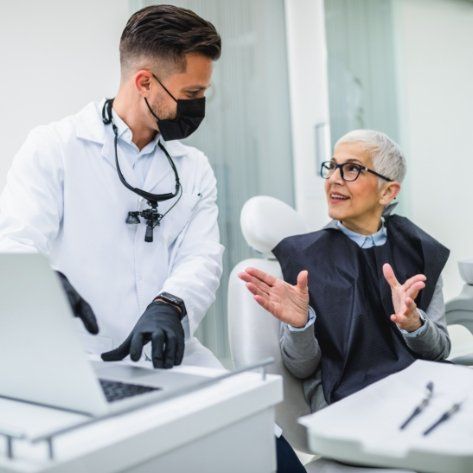 Naturally, because dental implants are more comprehensive than traditional tooth replacements, their treatment process is lengthier and more complex. Even though it can take several months to a year or longer to get dental implants, their lifelike qualities and potential to last for decades make them worth the investment in your time. At Washington Dental Care, we proudly offer the entire dental implant process from start to finish right here in our office for a more convenient treatment. Every patient's journey is different, but you can expect to complete four basic steps when getting dental implants.
Initial Dental Implant Consultation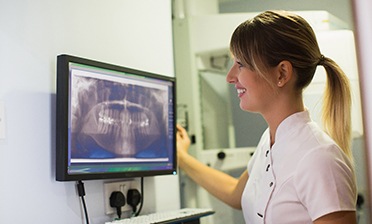 First, you'll meet with either Dr. Hammes or Dr. Cecchini for your consultation. In addition to thoroughly explaining how dental implants work in Chicago, they'll closely examine your mouth to confirm how many teeth (as well as which teeth) need to be replaced. We may find that you need to complete one or more preliminary procedures, such as bone grafting, before the implants can safely be placed. Once these treatments have been squared away, we can schedule your dental implant placement surgery.
Dental Implant Surgery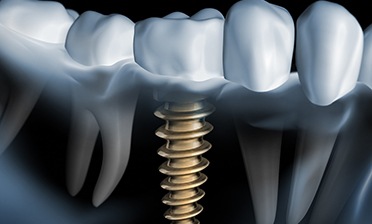 We place all of our dental implants using advanced computer guides, ensuring the safest, most accurate placement as well as a smooth recovery. After administering local anesthetic to numb your mouth (and sedation to help you relax), we create a tiny incision in your gums through which we can access your jawbone. The implant posts are precisely inserted into the bone, and then your gum tissue is stitched closed.
Dental Implant Osseointegration & Abutment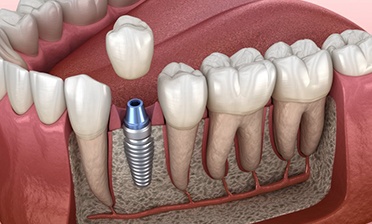 It should only take a few days to recover from your surgery, but your jawbone will spend the next four to six months growing firmly attached to the implant posts. This process, known as osseointegration, is the key to the impressive stability that your new teeth will have. When osseointegration is complete, we'll perform a second surgery, this one smaller, to secure metal connectors called abutments onto your implants. These pieces will hold your prosthetic teeth in place.
Delivery of Dental Implant Restoration(s)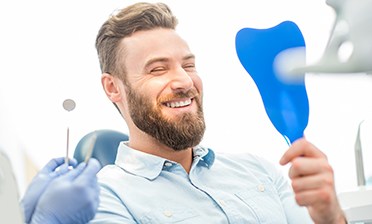 After you've healed from your abutment procedure, you'll come back to our office to receive your restorations. These crowns, bridges, or dentures (depending on the number of teeth you're missing) will be fabricated based on precise digital impressions of your mouth. Once we attach the restorations to your abutments, your smile should be complete!
Benefits of Dental Implants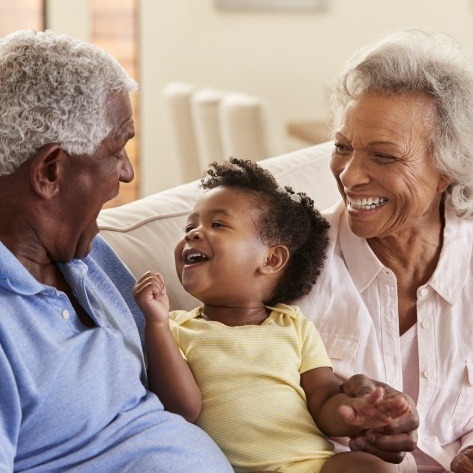 These days, there are several options available to replace missing teeth, but even the most well-made dental bridge or denture simply doesn't hold a candle to dental implants. With how natural they look, how effortless they feel, and how long they can last, it's easy to see why millions of Americans have turned back the clock on their smiles by getting dental implants. If you're still debating whether this solution is right for you, we encourage you to consider some of the unique benefits of dental implants in Chicago.
Day-to-Day Benefits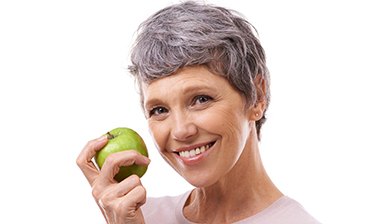 Easy cleaning – Regular dentures require an annoyingly time-consuming routine of taking them out of your mouth to scrub them clean and letting them soak overnight. In contrast, daily oral hygiene is a no-brainer with dental implants. For the most part, you can simply brush and floss your prosthetic teeth exactly as if they were the ones you'd been born with.
Enhanced chewing – Your new teeth will be firmly anchored into your jaw. Not only will this eliminate the risk of slippage, but you'll also enjoy a biting force nearly as powerful as the one you had with your original teeth. It will feel incredibly easy to dig into steak, apples, corn on the cob, and all kinds of foods that are almost impossible to chew with dentures.
Younger appearance – Without support from the roots of your teeth, your jawbone begins to shrink from a lack of support. Over time, it becomes unable to keep your facial tissues from drooping and wrinkling. Dental implants prevent this premature aging by strengthening the jawbone just like natural teeth.
Health Benefits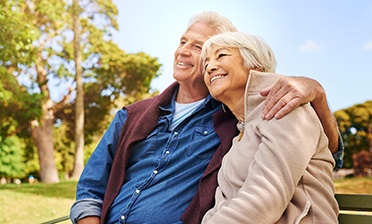 Stronger jawbone – When the jawbone deteriorates following tooth loss, it puts your remaining teeth at risk. Eventually, these teeth may fall out as well. As the only tooth replacement to recreate the teeth's roots, dental implants stimulate your jawbone through biting and chewing, protecting the teeth you have left.
Preserving your remaining teeth – Traditionally, placing a dental bridge requires that two of your natural teeth be filed down in order to support the prosthetic. These teeth are then left more vulnerable to sensitivity, decay, and even breakage. With dental implants, we won't need to alter perfectly healthy tooth structure; the implants can fully support themselves.
Better overall health – By being so easy to maintain, dental implants naturally decrease the risk of poor oral health, particularly gum disease. Because gum disease has been demonstrably linked to a multitude of medical conditions (heart disease, dementia, and type 2 diabetes, to name a few), it's reasonable to assume that dental implants can also reduce your risk for these issues.
Long-Term Benefits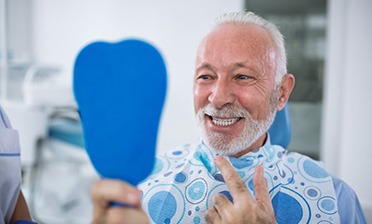 Impressive success rates – Dental implant treatment is remarkably safe, and even after more than a decade, it's successful in as many as 95-98% of cases. You'll be able to rely on these replacement teeth for years to come!
Results that last – On average, a conventional bridge or denture only lasts for about 10 years, but a dental implant's lifespan can easily reach three or four times In fact, many dental implant patients end up living the rest of their lives without ever having to get their implants replaced.
A worthwhile investment – While they seem costlier at first, dental implants can save you enormous amounts of money and time in the long run. Without needing to purchase adhesives and cleaning supplies, or have your prosthetic replaced entirely every few years, you'll be making a smarter investment by choosing dental implants.
Who Dental Implants Can Help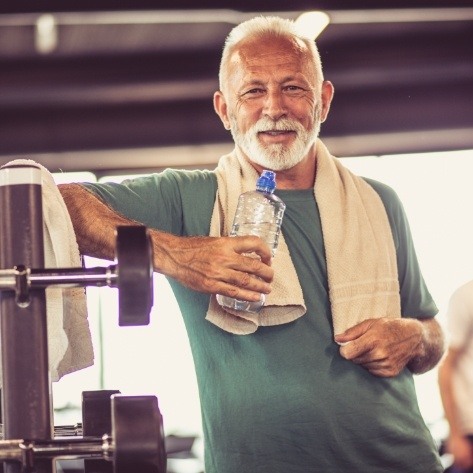 Dental implants are incredibly versatile at addressing all levels of tooth loss. Whether you're missing a single tooth or you need to have a full arch restored, dental implants are the most effective way to mimic your previous tooth structure and smile's natural appearance. With that said, the process that goes into replacing single teeth can vary compared to replacing multiple teeth. Feel free to learn more about how this works below ahead of your first consultation with the dentists of Washington Dental Care!
Missing Single Tooth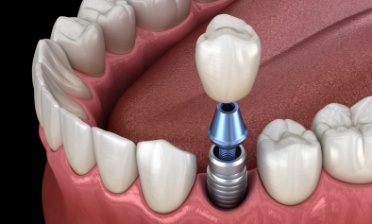 To replace a single tooth via dental implants, a titanium post is placed into the jaw, then given several months to heal and integrate so it can sufficiently hold an abutment and customized crown. The crown that attaches to the implant is customized to feel natural and match any existing teeth.
Missing Multiple Teeth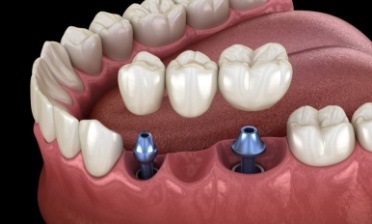 Instead of modifying your existing teeth to make room for an implant bridge, a pair of dental implants are attached inside of the jaw, then a restoration is placed on top. Since the implants do all the heavy lifting, you won't need to make any changes to your enamel just to make your smile complete.
Missing All of Your Teeth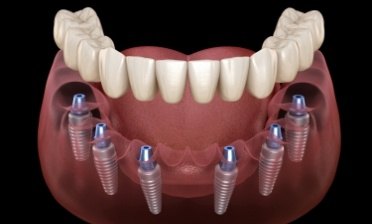 An implant denture is ideal for replacing the top, bottom, and even both arches if necessary. Our dental office makes use of both locator and bar-retained implant dentures depending on your specific preferences. We're happy to break down their unique differences with you during your consultation.
Learn More About Implant Dentures
Understanding the Cost of Dental Implants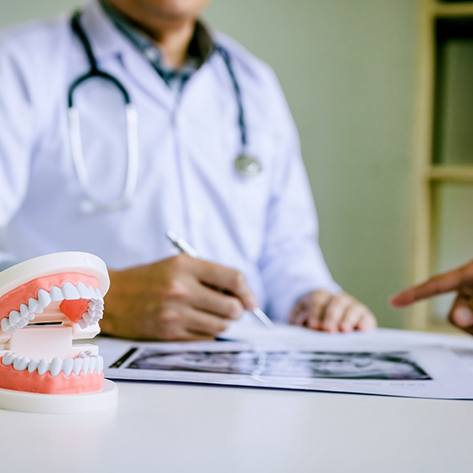 Compared to most other tooth replacements, dental implant treatment is much more complex and personalized. Therefore, the cost of dental implants in Chicago can vary dramatically depending on your specific needs. The number of teeth you need replaced can affect how many implants are required, the type of restoration we create, and the overall length of your surgery, affecting your final cost. No matter what your estimate may be, we'll be fully transparent about your costs in advance and help you explore your financing options.
Preliminary Treatments & Dental Implant Surgery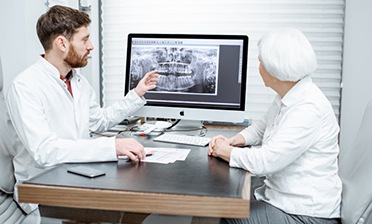 It's fairly common for patients to need one or more additional procedures (such as tooth extractions, bone grafting, or a sinus lift) before they're ready for dental implant surgery. Each of these procedures incurs its own fee, but since they increase the chances of your implants being successful in the long run, consider them an investment in your future smile.
The surgical placement itself will also have its own price, which varies based on the complexity of your case as well as any anesthesia or sedation you receive. Luckily, our Washington Dental Care team can perform this step of the process in-house, saving you from needing to pay specialist fees.
The Parts of Your Dental Implant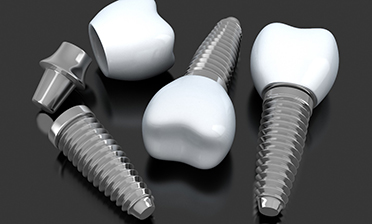 The dental implant post, and the abutment connector that goes on top of it, can be made from various materials and come from different brands and manufacturers. Our dentists may recommend a certain type of implant or abutment based on how it will best meet your specific needs. Naturally, they all come at different price points.
The restoration – prosthetic tooth or teeth – that is affixed on top of your abutments will also factor into your overall costs. Needless to say, restoring a single implant with a crown will generally cost less than placing a full denture.
How Dental Implants Can Save You Money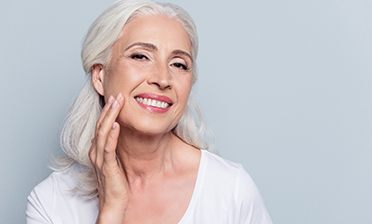 You might be tempted to try and save money by choosing a traditional denture or bridge instead, but dental implants are actually the most cost-effective option currently available. Not only will you not have to pay to get your prosthetic replaced every five to ten years, but you also won't need to purchase special cleaning products or adhesives. Additionally, implants are easier to care for, so they reduce your risk of gum disease and the costs associated with treating it. In the end, dental implants in Chicago pay for themselves many times over!
Does My Dental Insurance Cover Dental Implants?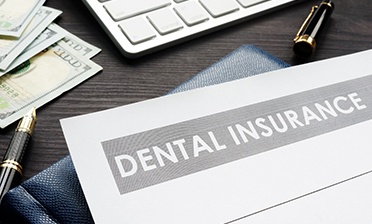 While it's becoming increasingly common for dental insurance providers to cover dental implants, not all of them do. To make sure you're getting all of the savings for which you qualify, our team will happily maximize your plan's benefits and handle the paperwork on your behalf. Our practice is in-network with Tricare, but we accept all dental PPOs.
Making Dental Implants Affordable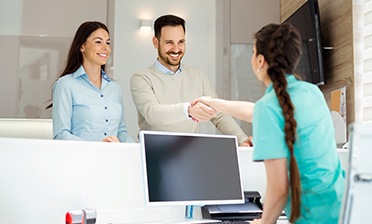 At Washington Dental Care, we want our patients to be able to replace their teeth without breaking the bank. To that end, we offer other financing options besides insurance, such as:
FREE dental implant consultation – We're currently running a special offer for a free implant consultation, which includes evaluation, diagnosis, and treatment planning.
Third-party financing – Our practice has partnered with CareCredit and Alphaeon, both of which offer low-interest monthly payment plans that make your treatment costs more manageable.
In-house membership plan – Our in-house dental plan makes it easy for uninsured patients to save. A small annual fee provides low, fixed rates for dental implants and many other treatments, in addition to the free preventive care that insurance covers.
Maintaining & Caring for Your Dental Implants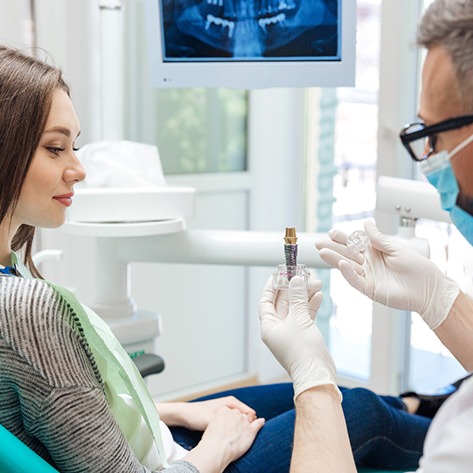 If you've just gotten dental implants, you're likely pretty excited. After all, these prosthetics could keep your smile complete and healthy for a lifetime! Still, remember that implants need care just as regular teeth do. They'll fail from damage or infection without good maintenance. Luckily, we at Washington Dental Care can assist: here are some tips on proper dental implant care in West Loop. By reading them over, you'll ensure your newly-rebuilt grin gets many years of use!
Make Oral Hygiene a Priority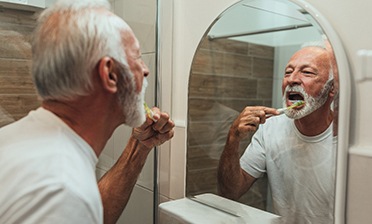 Dental implants themselves can't get cavities; they're made of artificial materials. That said, you should still practice great oral hygiene for their sake.
The problem is that oral health issues can trigger implant failure. Such conditions often loosen your prosthetic and keep it from fusing, whether a tooth infection or gum disease. From there, you would have to replace the implant with a new one.
So, then, remember to keep your teeth clean. In particular, brush them twice daily, floss them once daily, and rinse them with mouthwash as needed.
Eat a Healthy Diet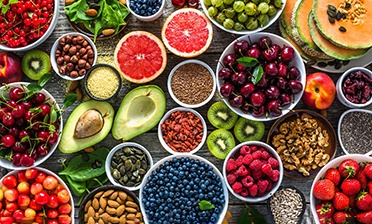 By fusing with your jaw, implants restore much of your bite force. They thus allow you to eat almost anything you want. Despite that fact, though, you should still try to stick to a "mouth-friendly" diet.
You see, some foods are risky for implants. Chips and nuts, for example, can chip or crack these prosthetics. Meanwhile, sticky or sugary foods often wedge between implants and cause oral health issues.
"Mouth-healthy" meals, in contrast, benefit your implants. For starters, dairy products have calcium that further strengthens your jawbone. On the other hand, fruits and veggies have vitamins that make gum tissues resilient.
Break Bad Habits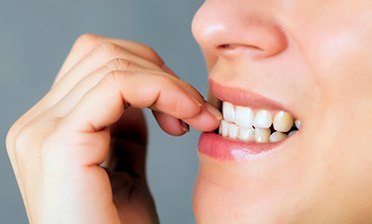 Just as they hurt natural teeth, bad oral habits can harm dental implants. They'll even lead to implant failure if you're not careful.
Look at tobacco products, for instance. These items slow your recovery from implant surgery and encourage gum disease. Due to such effects, they make implants less likely to fuse with your jaw.
You shouldn't chew on hard objects, either. Doing so will damage your implants, especially if the "object" in question is a fingernail, ice cube, etc.
Protect Your Dental Implants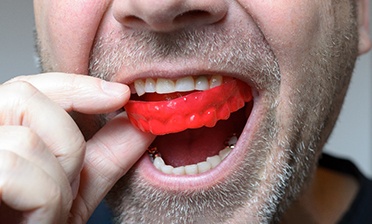 Implants may be durable, but they aren't indestructible. As such, you must protect them from harsh forces that might chip or break them.
A perfect idea would be to wear a custom sports or sleep mouthguard. In sporting events, the appliance can prevent dental injuries. Alternatively, a special nightguard would keep implants safe from tooth grinding.
Schedule Regular Dental Checkups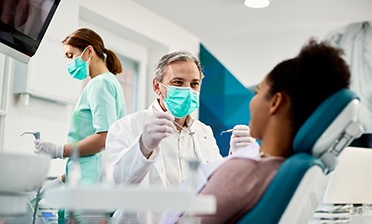 Naturally, implant maintenance requires that you see a dentist often. Given that fact, attending regular checkups and cleanings every six months is best.
Keep in mind that dental visits act as preventive care. Namely, they allow a dentist to monitor your oral health and spot issues early. Therefore, regular checkups let a dental practice assess your implants and treat potential threats early.
Dental Implant FAQs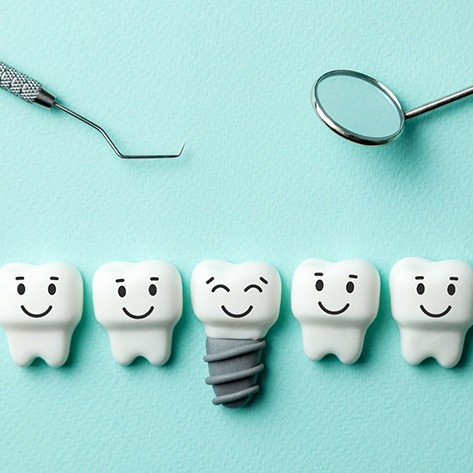 Dental implants are an excellent way to replace missing teeth, as they have so many unique benefits. However, they are quite an investment, so it pays to be well-informed. Here are the answers to some of the most common questions we receive about dental implants in Chicago. If you don't see the information that you're looking for below, give us a call. We're happy to explain more about the procedure and get you started with an initial consultation.
How Long Do Dental Implants Last?
The lifespan of dental implants typically depends on the health and lifestyle choices of the patient. To ensure dental implants last, be sure to brush, floss, and rinse with a mouthwash daily. Attend dental checkups and cleanings regularly and avoid chewing on anything particularly hard or sticky. With proper maintenance, dental implants can last upwards over 30 years. This is several times longer than traditional bridges and dentures.
Does Getting Dental Implants Hurt?
The jawbone doesn't have very many nerve endings, and your mouth will be numbed with a local anesthetic before the procedure begins. You will also most likely be sedated, lowering your body's ability to register pain. While the surgery shouldn't hurt, your mouth may be sore for a few days afterwards. This can be managed with your recommended over-the-counter and prescribed pain relievers. Cold compresses can also help. If discomfort worsens instead of improving after three days, give us a call.
Am I Too Young to Get Dental Implants?
Most dental professionals will not place implants in patients younger than 18. This is because if dental implants are placed before the jaw has finished growing, it could interfere with further bone development and potentially result in complications. Most people's jaws aren't fully developed until young adulthood, and some people's jaws take until their mid-20s to fully develop. During your initial consultation, we will determine whether or not dental implants are the right option for you at this time.
How Long Does It Take to Recover from Dental Implant Surgery?
You should be able to resume your normal activities the day after surgery. However, you should avoid strenuous exercise for the first week or so, as it could delay healing. Bleeding should stop after the first couple of days, and swelling should cease after three to four days. Take your over-the-counter and prescribed pain relievers as directed. It may take up to six months for your implants to fuse with your jawbone.