Veneers – Chicago, IL
Fix Your Entire Smile at Once
Does your smile leave something to be desired? You're not alone. Research suggests that more than half of the population would like to correct discoloration, chips, cracks, gaps, and other imperfections in their teeth. With a cosmetic dentistry treatment called veneers, our skilled team at Washington Dental Care can fix your entire smile at once by making all of its flaws disappear. To find out more about veneers in Chicago, keep reading below or call us to schedule your initial consultation.
Why Choose Washington Dental Care for Veneers?
Virtual Smile Design Software to Preview Your Results
Evening & Saturday Dental Office Hours
Custom Treatment Plans from Experienced, Gentle Dentists
What Are Dental Veneers?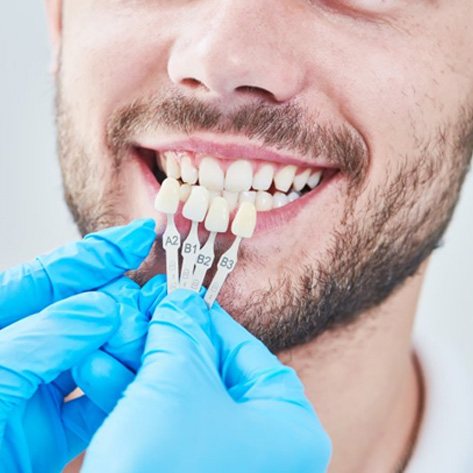 Veneers are super-thin sheaths of dental porcelain that are bonded to the front surfaces of the teeth, instantly masking all aesthetic issues. Since porcelain is able to flawlessly mimic tooth enamel, and each veneer is customized to meet your specific needs, the results will appear perfectly natural. As one of the most versatile cosmetic dentistry solutions, veneers can cover up stains, chipped or cracked enamel, misshapen teeth, small gaps between teeth, and even minor cases of crooked or rotated teeth. After being placed, veneers have the potential to last for a decade or longer.
The Process of Getting Veneers
Not counting your consultation, the veneers process typically takes two appointments. During the first of these visits, one of our dentists prepares your teeth to receive veneers by gently reshaping the enamel. This step ensures that the veneers fit within your overall smile line. Next, your cosmetic dentist in West Loop captures impressions of your teeth. While the dental lab gets to work crafting your veneers, a set of temporaries is placed to protect your teeth in the meantime. After a few short weeks, you return to our office to have your temporary veneers swapped out for the real thing, and voila! Your smile is completely transformed!
The Benefits of Veneers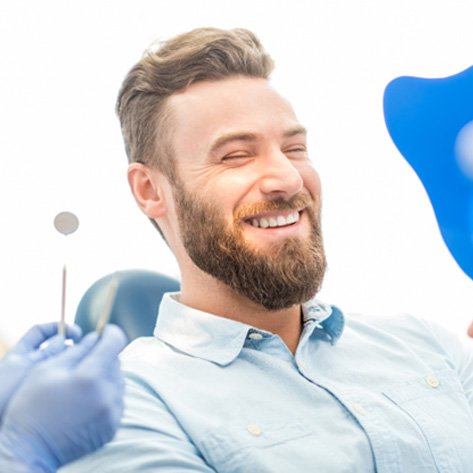 Why are veneers in West Loop one of our most sought-after cosmetic services? It's probably because they come with a plethora of benefits, including:
Lifelike results – Every single veneer is personalized to look like a natural part of your smile, so it won't be obvious that you "had work done."
Lasting solution – Veneers are capable of lasting for 10-15 years or longer with the same daily maintenance you would give your natural teeth.
Comprehensive treatment – With veneers, you can fix practically any imperfections in your smile at the same time.
Quick process – Getting veneers only takes two visits to our office over the course of a few weeks.
Understanding the Cost of Veneers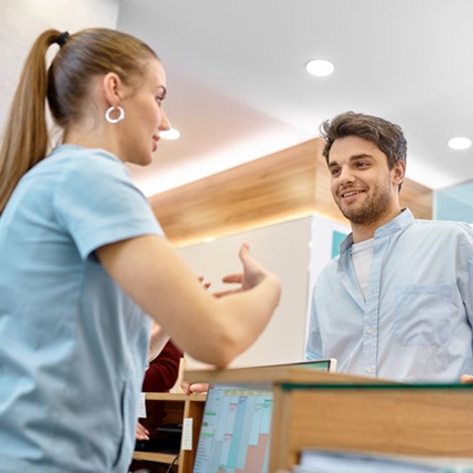 If you're ready for the ultimate upgrade for your smile, then veneers may be the solution you've been looking for. While you can certainly enjoy many cosmetic benefits from these porcelain shells, you'll want to know about their price before moving forward with your decision. Our team won't be able to provide an exact estimate without first evaluating your smile with an initial consultation. Before then, here's what you should keep in mind when it comes to the cost of veneers.
Cost vs. Cosmetic Dentistry: What's Right For Me?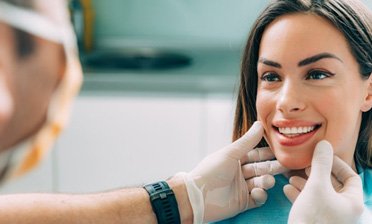 Veneers are one of the most popular cosmetic services out there, but it's important to remember that they aren't the only solutions for improving your pearly whites. Our practice offers other treatment options for enhancing your smile, each with its unique price points. Here's a closer look at our cosmetic services and how they measure up to veneers:
Teeth Whitening : With either an in-office procedure or an at-home kit, our team can offer professional teeth whitening to brighten your smile. You can achieve your amazing results after a couple of weeks or even a single visit depending on your needs and schedule. While the effects are phenomenal, this treatment will only affect the color of your teeth and not the shape or size in the way that veneers can.
Invisalign : Instead of wearing metal brackets and wires, patients can choose to straighten their smile with Invisalign clear braces! This process is typically quicker than traditional orthodontics, and the trays are removable, allowing you to enjoy more freedom during the treatment, such as eating your favorite meals. However, while the results are permanent (so long as you wear your retainers), this option only changes the alignment of your teeth and not their color, shape, or size.
Veneers : While they come with a higher initial cost, veneers can provide the entire package for upgrading your teeth. Whether you need to fix teeth that are stained, chipped, cracked, misshapen, or all of the above, these porcelain shells can effectively conceal dental flaws while boosting your smile's appearance. Furthermore, with proper care, your results can last 15 years or more!
How to Make Veneers Affordable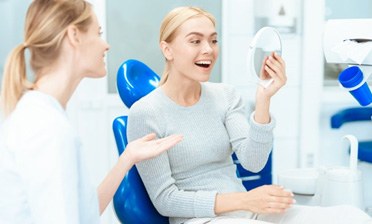 While dental insurance companies can offer coverage for many services, veneers aren't always included in the list. Still, you'll want to confirm with your provider about your benefits in case they can help with porcelain shells that are meant for restorative purposes. Aside from insurance, our team offers free consultations (or second opinion) for veneers. You can also consider looking into financing through third-party financiers like CareCredit and Alphaeon who can help split up the overall price of your veneers into monthly payments with little to zero interest!